The Zine
Communiqué
Hello everyone,
With great regret, I must tell you that there is no Spring 2008 Retreat Issue.

Unfortunately, I just don't have enough articles! I received very few submissions this time round. (This may have something to do with the fact that the month of April, which comes right before the May 1st submission deadline, is the month when tax returns are due in the United States, Canada, New Zealand, and the UK!)
Under other circumstances, I would probably go ahead and publish anyway. The Retreat issues were always intended to be shorter than the regular Movement issues; they have much shorter deadlines, with only one month between the Movement issue and the deadline for Retreat submissions. Also, as a matter of editorial policy, I think it's important for our contributors and readers to be confident that new issues will come out on a regular schedule. So it's disappointing to have a break in our publishing schedule, which has been going strong over the past year and a half.
BUT... as mentioned in the last issue (S2008M), the next issue of the Pouch is going to be our fiftieth. That's quite a landmark for any zine, and I'd like the issue to be worthy of it! I also would like to have more contributions from our long-time writers, going back to the mid-nineties. Unfortunately, most of these friends of the Pouch weren't able to send anything in time, though many indicated that they did expect to do something for the regular Fall 2008 Movement submission deadline on August 1st.
So I've decided not to publish the articles I do have just yet. I apologize to those who did send in contributions: I am grateful for them, and they will be published in the fiftieth issue — which is now tentatively scheduled for August 31st, 2008, when the Fall Movement issue would normally be due. The official submission deadline for the issue is now August 1st, 2008.
My hope is that this extra time will let us put together a really good issue that more than makes up for the delay. However, as always that depends on YOU! The Pouch relies on external contributions from Diplomacy fans; without your input, the Zine wouldn't exist. More than ever before, I encourage people to submit articles — we can't publish without them!
So please, if you've ever considered writing something for the Zine, please do! We accept articles on just about any aspect of Diplomacy; strategy, negotiation, variants, Diplomacy-related humor, historical background — anything that interests you will likely interest our other readers. You can submit your articles as text, a Word document, or in any other format you choose. But please, submit them! You can send your articles to me at editor@diplomatic-pouch.com.
The Pouch Zine needs YOU!!!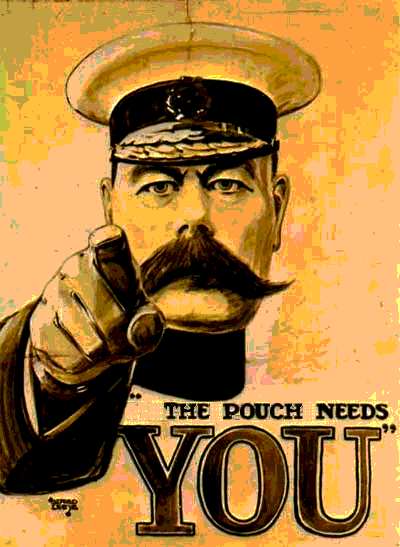 With that said, I do want to assure our readers and contributors that the delay until the next issue should be considered a regrettable exception — but definitely an exception. I'm still here, articles are still being written, and the Pouch will continue to put out issues on a regular schedule for as long as we have material to publish.
In the meantime, I encourage our readers to look back over our past issues. There's plenty of good material in there that's worth reading, or revisiting even if you've seen it before. And who knows? Maybe it will inspire your next article!